By Rocky Dohmen, but enhanced by others
Updated Mar 3, 2012 at 8:44 pm; First filed Feb 26, 2012 at 8:04 am
Little River Musician Invents Tremolo System For Acoustic Guitar
First Report February 26:
If you've ever been out and about along the Strand in the summer, more than likely you've seen and heard local musician, Predice Hendricks, playing with his band,
That's Cool and Stuff
.
Besides being a musician, woodworker, and doting father of three, Predice is also a dreamer and now inventor. About 21 years ago, Predice had an idea for an tremolo system for acoustic guitars. Predice states, "I noticed that when playing my Acoustic guitar, I found myself wanting to do things on my Acoustic guitar like I do on my electric guitar with the whammy bar (being able to hold and vibrato whole chords, not just notes!). I found this could not be achieved because there were no Acoustic guitars with tremolo systems that I could find on the market." After years of working on his design in 2002 he started the patent process and as of June 2, 2011 he was awarded the patent for his acoustic tremolo system.
Now, with patent in hand he needs some help getting his prototypes ready to take the the National Association of Music Merchants (NAMM) show that is held annually in Nashville, TN. There he hopes to show off his invention and get guitar players excited and instrument-makers interested.
What's a
Tremolo System

?

I wasn't exactly sure what a tremolo system was so I reached out to my friend Steve Senes, another Myrtle Beach musician and winner of Guitar Player Magazine's Guitar Superstar 2009 and he gave a pretty simple explanation:

A tremolo system (more accurately, a Vibrato system) gives the ability for the player to add vibrato to his playing, typically by pushing down on or lifting up on a 'bar' connected to the bridge of the guitar. Pushing down on the bar lowers tension on the strings, thus lowering the pitch of the notes being played. Lifting up on the bar (on some systems) raises the tension and pitch. Subtle variance of pressure on the bar causes very slight fluctuations in pitch, hence the term Vibrato (Tremolo is actually the same note just being played rapidly over and over). More drastic pressure on the bar moves the bridge more and gives more obvious variance in tone, such as the 'Dive Bomb' that was common in 80's guitar playing (ie the end of the Van Halen solo Eruption). Another player who used the Tremolo system a lot was Dime from Pantera. Steve Vai as well.




The system works by counterbalancing string tension with a few springs, which are usually in the back of the guitar, in cavity that has been made for the tremolo system. The Bridge usually rests on a fulcrum point. When the bar is pushed down, the bridge 'tilts' forward, releasing tension on the string while increasing tension on the springs. When the player eases tension on the bar, the spring tension returns the bridge to it's 'zero' point and the strings (theoretically) to their original pitch. I say theoretically because there are a lot of variables involved in this actually happening.




Tremolo systems have existed on electric guitars nearly since the electric guitar became popular (I think the Fender Stratocaster has always had a tremolo, since it's introduction in the late 50's) but didn't come into prominent use until the late 70's/early 80's because heavy use knocked a guitar way out of tune. In the early 80's, Floyd Rose developed and marketed a locking tremolo system where the strings were locked in at the bridge and at the top of the neck by a clamping mechanism. At the bridge, the 'ball end' of the string is cut off and clamped into place on the bridge. The theory behind this is that when the bar is engaged, the string does not move over any surface, eliminating any change in string length (which affects pitch) and eliminates and friction, binding at the nut or tuning head. While not a perfect solution, it improved tuning stability a thousandfold and made it possible for people to get their whammy on.

Thanks for the info, Steve. You can download his album De-Evolution Of Theory on iTunes and Amazon
.
http://myrtlebeach.thedigitel.com/arts-culture/little-river-musician-invents-tremolo-system-acous-34885-0226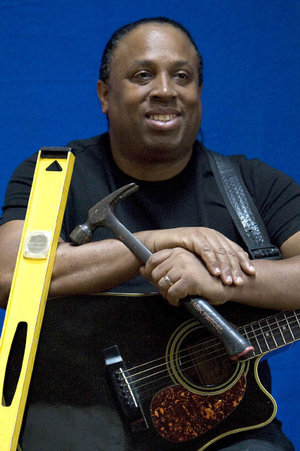 Predice Hendricks
Where Music Meets Invention
Written by Roger Yale Picture by Janet Blackmon
Published on 3/21/12
Predice Hendricks can best be described as a renaissance man. A musician, carpenter and inventor hailing from Hampton, Va., Hendricks spent a couple of years in the Outer Banks, N.C. helping a friend build oceanfront beach houses there and gearing up to begin an ambitious multistate tour with wife Terri Mason-Hendricks and their musical duo That's Cool And Stuff. They played every Southern state over the course of more than three years, and in 2000, the pair became Grand Strand residents.
"We were playing in Charleston, and a friend lived up here," he says. "We came to visit, and when he decided to move back to Virginia, we took over the place he was renting. We figured that this was a good central location and we love the beach." Hendricks now lives in Little River with his wife and three sons: (Predice) D'Metri (8), Mason (7), and Elijah (4).
That's Cool And Stuff continues to play gigs, most recently last week at Patio's Tiki Bar in Little River, and the couple recently began an ASCAP affiliated music publishing company, Open Minded Music Publishing. Hendrix was also involved with 80 Proof, a 1980s metal tribute band. "This was a side project that I put together with Derek Amato and Nathan Utz, and Earl Truette was the original drummer for the project," he says. "It was a full-on theme show with big backdrops, fake flames onstage – smoke machines – something straight out of 1985. It was great." He also sat in on bass with Freedom Street Prison.
Making a living as a musician on the Grand Strand can be a daunting proposition, and many who attempt this here tend to have other irons in the fire. Hendricks is no exception. "I'm a subcontractor and a handyman." His scope of services run the gamut: additions, decks, window replacement, sheetrock, trim – flooring, painting, insulation. "I'm also a remodeling consultant," he says. "I will sit down with people if they are not sure what to do with a project and come up with ideas to help them utilize the space they have."
For years, however, Hendricks has been nurturing a groundbreaking idea – an invention that was granted patent status in 2010, the Acoustic Tremolo System – ostensibly a "whammy bar" for acoustic guitar."I came up with the idea in 1991; electric guitars had tremolo systems, but I noticed there was no system like this for acoustic guitars." Later, when working at Ripper's Music in Virginia, the store dealt with every major guitar manufacturer, and Hendricks talked to all of the reps about this. "Nobody had it, and I researched this for two years and found nothing."
Hendricks had expertise in wood working, especially in relation to grain and differing wood strengths. He also built several electric guitars in the past. "I took my knowledge how wood worked with guitars and designed my own tremolo system."
Last year, Hendricks attended the NAMM [National Association of Music Merchants] Show in Nashville, Tenn. as a featured guitarist for B.A. Ferguson Guitars. "While I was there I went around to other booths and talked to other guitar companies, and the response I got was like, 'Wow! Somebody is actually doing this.' A couple of companies said they tossed the idea around, but nobody pursued it."
He is working on the prototype for the system, and has played the devil's advocate. "One of my teachers in high school told me that whenever you build something, go to the other side of the table and start trying to find every way you could pick it apart. So I did that – challenging myself constantly when I was designing this thing and covered every little nook and cranny – and why this thing would work." He says the patent process began in 2001.
Clearly, Hendricks is a busy guy. Downtime includes family time – walks at Vereen Memorial Historical Gardens or time at the beach or pool. "We still get a chance to hire a babysitter and take the time for me and Terri to go out – but that is rare."
Hendricks plans on remaining Grand Strand-based because of its centralized location and, of course, the beach. But he's going all-in with his Acoustic Tremolo System. "I'm focusing on getting the invention out and making it into a National thing."
For more about the Acoustic Tremolo System, go to http://predicehendricks.tripod.com.
Know of a local with an interesting job or career that should be given the Working 4 A Living treatment?
Contact Roger Yale at rgyale@gmail.com.
http://www.myrtlebeachonline.com/2012/03/20/2727968/working-for-a-living.html